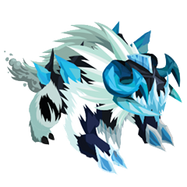 Ultra Rare Monsters (aka Ultra Monsters) are ultra cool! Unfortunately, most of these have to be won in event rewards or "bought" using gold in the ultimate spin machine in the store. Good luck!
Max Level: 60 | 70*| 80**
A star (*) indicates an evolved form, (**) indicated a third evolved form.
A= Attack, H=Health, R=Recovery, FV= Feed Value
| Monster | | A | H | R | FV | Found |
| --- | --- | --- | --- | --- | --- | --- |
| Cybug | | | | | | |
| Cyberus* | | 1284 | 16150 | 979 | 665 | Event Reward |
| Cybrawl** | | 1727 | 22050 | 1417 | 665 | Event Reward |
| Shalemail | | 703 | 4713 | 698 | 700 | |
| Shalemor* | | 1179 | 7944 | 1197 | 700 | |
| Shalemost** | | | | | | |
| Raptorch | | 695 | 4763 | 705 | 700 | |
| Rapscorch* | | 1168 | 8019 | 1208 | 700 | |
| Rapscourge** | | | | | | |
| Lochnessy | | 688 | 4813 | 713 | 700 | |
| Lochcroc* | | 1157 | 8094 | 1219 | 700 | |
| Lochzilla** | | 1579 | 22094 | 1697 | 525 | Ultimate Grab |
| Heartsteeler | | | | | | Event Reward |
| Heartbreaker* | | 1292 | 14688 | 1110 | 665 | Event Reward |
| Heartattacker** | | 1736 | 20344 | 1570 | 665 | Event Reward |
| Cratercannon | | 705 | 8850 | 655 | 665 | Event Grab |
| Grandcannon* | | | | | | |
| Herbavaurus | | 680 | 4863 | 720 | 700 | |
| Herbvaurlord* | | 1145 | 16338 | 1230 | 700 | Ultimate Grab |
| Superbvaurlord** | | | | | | |
| Mistlecrow | | 773 | 9600 | 553 | 700 | Event Reward |
| Thistlecrow* | | | | | | Event Reward |
| Bristlecrow** | | 1727 | 22050 | 1417 | 665 | Event Reward |
| Odinstweet | | 675 | 4913 | 728 | 700 | |
| Odinsbird* | | 1138 | 8244 | 1242 | 700 | |
| Odinsbat** | | | | | | |
| Bouldoise | | 708 | 4675 | 705 | 665 | |
| Mountoise* | | 1187 | 7888 | 1208 | 665 | |
| Amethoise** | | 1614 | 21613 | 1684 | 665 | Ultimate Grab |
| Firemane | | 703 | 4713 | 713 | 665 | |
| Firefighter* | | 1179 | 7944 | 1219 | 665 | |
| Firechief** | | | | | | |
| Snowmonk | | 695 | 4763 | 720 | 665 | |
| Shaomonk* | | 1168 | 8019 | 1230 | 665 | |
| Shaogun** | | 1592 | 21919 | 1710 | 665 | Ultimate Grab |
| Anacactus | | 688 | 4813 | 728 | 665 | |
| Kingcacbra* | | 1157 | 8094 | 1242 | 665 | Ultimate Grab |
| Kingcarabric** | | 1579 | 22094 | 1724 | 665 | Ultimate Grab |
| Windbeaker | | 680 | 4863 | 735 | 665 | |
| Windbender* | | 1145 | 8169 | 1253 | 665 | |
| Winduyasha** | | 1565 | 22269 | 1737 | 665 | Ultimate Grab |
| Corsairus | | 675 | 4913 | 728 | 700 | |
| Corsairlord* | | 1138 | 8244 | 1242 | 700 | |
| Corsoundrel** | | | | | | |
| Roguetorch | | 695 | 4763 | 705 | 700 | |
| Roguescorch* | | 1168 | 8019 | 1208 | 700 | |
| Rapscourge** | | 1592 | 21919 | 1684 | 525 | Ultimate Grab |
| Taobeaker | | 628 | 4513 | 705 | 700 | |
| Taobreaker* | | 1067 | 7644 | 1208 | 700 | |
| Taomane | | 695 | 4763 | 705 | 700 | |
| Taofighter* | | 1168 | 8019 | 1208 | 700 | |
| KingTao** | | | | | | |
| Noirrior | | | | | | Event Reward |
| Noirlord* | | 1472 | 14275 | 979 | 665 | Event Reward |
| Noirchief** | | 1946 | 19863 | 1417 | 665 | Event Reward |
| Huffpuff | | | | | | |
| Tuffpuff* | | | | | | |
| Vegeterrier | | 678 | 4563 | 680 | 665 | |
| Veganterrier* | | 1142 | 7719 | 1170 | 665 | |
| Burndog | | 688 | 4513 | 680 | 665 | |
| Sunderdog* | | 1157 | 7644 | 1170 | 665 | |
| Hartwarmer | | 605 | 9600 | 655 | 665 | Event Grab |
| Hartburner* | | | | | | Event Grab |
| Schnauzzard | | 683 | 4638 | 665 | 665 | |
| Schnauzzord* | | 1149 | 7832 | 1148 | 665 | |
| Violettyke | | 720 | 4388 | 705 | 700 | |
| Violetprime* | | 1205 | 7457 | 1208 | 700 | |
| Violetdefender** | | | | | | |
| Moshmarrow | | 695 | 4888 | 730 | 700 | |
| Moshpharoah* | | 1168 | 8207 | 1245 | 700 | |
| Thrashmarrow** | | 1592 | 22357 | 1728 | 665 | Event Reward |
| Bombshell | | 675 | 4638 | 680 | 665 | |
| Smartbomb* | | 1138 | 7832 | 1170 | 665 | |
| Monosaur | | 650 | 4763 | 680 | 665 | |
| Stereosaur* | | 1100 | 8019 | 1170 | 665 | |
| Cluquistador | | 630 | 4813 | 683 | 665 | |
| Turquistador* | | 1070 | 8094 | 1174 | 665 | |
| Kangaroast | | 655 | 4688 | 683 | 665 | |
| Kangaboom* | | 1108 | 7907 | 1174 | 665 | |
| Albatrice | | 630 | 4750 | 695 | 665 | |
| Albalanche* | | 1070 | 8000 | 1193 | 665 | |
| Bushywhacker | | 600 | 4925 | 708 | 665 | |
| Bushyguardian* | | 1025 | 8263 | 1212 | 665 | |
| Windstripe | | 713 | 4888 | 713 | 665 | |
| Risenstripe* | | 1194 | 8207 | 1219 | 665 | |
| Knightstripe** | | 1622 | 22357 | 1697 | 665 | Event Reward |
| Chirpera | | 713 | 4888 | 713 | 665 | |
| Chimpera* | | 1194 | 8207 | 1219 | 665 | |
| Chimerilla** | | 1622 | 22357 | 1697 | 665 | Event Reward |
| Zombunnie | | 600 | 4863 | 658 | 665 | |
| SolomonBunny* | | 1025 | 8169 | 1137 | 665 | |
| Plagasus | | 748 | 4888 | 555 | 700 | |
| Pandemasus* | | 1247 | 8207 | 983 | 700 | |
| Poxasus** | | 1684 | 22357 | 1422 | 665 | Event Reward |
| Stalactooth | | 603 | 4788 | 660 | 665 | |
| Stalagmight* | | 1029 | 8057 | 1140 | 665 | |
| Oxydjinn | | | | | | |
| Oxygeneral* | | | | | | |
| Exskullibur | | | | | | |
| Greyskullibur* | | | | | | |
| Hopsydaisy | | | | | | |
| Hopsycrazy* | | | | | | |
| Maskrabbit | | | | | | Event Reward |
| Maskerville* | | | | | | Event Reward |
| Maskmaster** | | 1561 | 22225 | 1710 | 855 | Event Reward |
| Goldendrake | | | | | | |
| Goldensage* | | 1164 | 16038 | 1230 | 665 | Event Reward |
| Goldenking** | | | | | | |
| Bronzescar | | | | | | |
| Scargoyle* | | | | | | |
| Vider | | | | | | |
| Viguy* | | | | | | |
| GlidingDutchman | | | | | | |
| UndyingDutchman* | | | | | | |
| Seabra | | | | | | |
| Deepseabra* | | | | | | |
| Dreadseabra** | | | | | | |
| Wolfmachine | | 650 | 9175 | 703 | 855 | Event Grab |
| Warwolf* | | | | | | |
| Munchmaison | | | | | | |
| Munchmansion* | | | | | | |
| Tajmuchal** | | | | | | |
| Windkicker | | | | | | |
| Windtackler* | | | | | | |
| Bellybean | | | | | | |
| Gearbelly* | | | | | | |
| Sacramound | | 718 | 8625 | 788 | 665 | Event Grab |
| Sacramountain* | | | | | | |
| Hydroppy | | 753 | 9150 | 720 | 665 | Event Reward |
| Hydrogenie* | | 1254 | 15475 | 1230 | 665 | Event Reward |
| Hydrogon** | | 1692 | 21263 | 1710 | 855 | Event Reward |
| Flammavian | | | | | | |
| Flammoose* | | | | | | |
| Poultrypuncher | | | | | | |
| Poultypugilist* | | | | | | |
| Cajunker | | | | | | |
| RaginCajunker* | | | | | | |
| Limbolurker | | | | | | |
| Limboprowler* | | 1205 | 14538 | 1347 | 665 | Event Grab |
| Bunboo | | | | | | Event Reward |
| Bunshee* | | 1262 | 15438 | 1253 | 665 | Event Reward |
| ShrillBunshee** | | 1701 | 21219 | 1737 | 855 | Event Reward |
| Vion | | | | | | |
| VionKing* | | | | | | |
| Rox | | | | | | Event Reward |
| Roxsteady* | | 1247 | 16750 | 1140 | 665 | Event Reward |
| HawkRox** | | 1684 | 22750 | 1605 | 855 | Event Reward |
| Dogbloomer | | | | | | |
| BarkingDog* | | | | | | |
| Frup | | 813 | 7875 | 775 | 665 | Event Grab |
| Freagle* | | 1344 | 13563 | 1313 | 665 | Event Grab |
| Hotpatches | | | | | | |
| Roughpatches* | | | | | | |
| Yakdown | | | | | | |
| Yakcrown* | | | | | | |
| Heru-Urn | | | | | | |
| Heru-Grrr* | | 1382 | 14313 | 1257 | 665 | Event Reward |
| Heru-Growl** | | | | | | |
| Icecat | | | | | | |
| PolarIcecat* | | 1247 | 13788 | 1384 | 665 | Event Grab |
| Elfkimo | | | | | | |
| Urskimo* | | 1408 | 14313 | 1317 | 665 | Event Reward |
| Brrrskimo** | | 1872 | 19907 | 1811 | 855 | Event Reward |
| Arbordog | | | | | | |
| Arbormaster* | | | | | | |
| Mightsprite | | 750 | 7250 | 900 | 665 | Event Grab |
| Mechsprite* | | 1250 | 12625 | 1500 | 665 | Event Grab |
| Wardog | | | | | | |
| Warhound* | | | | | | |
| Nobletoad | | | | | | |
| Royaltoad* | | | | | | |
| Aristoadcracy** | | 1902 | 20432 | 1767 | 855 | Event Reward |
| Crushtacean | | 748 | 8150 | 843 | 665 | Event Grab |
| Infatustacean* | | | | | | Event Grab |
| Neoleo | | 878 | 8575 | 758 | 665 | Event Reward |
| Neonlion* | | 1442 | 14613 | 1287 | 665 | Event Reward |
| Neonphenom** | | 1911 | 20257 | 1776 | 855 | Event Reward |
| Growlf | | | | | | |
| Growverine* | | | | | | |
| Greenguy | | | | | | Event Reward |
| Greenfly* | | | | | | Event Reward |
| Greeliath** | | 1867 | 21000 | 1754 | 855 | Event Reward |
| Vermite* | | | | | | |
| Demigeode | | | | | | |
| Geodemo* | | 1408 | 15963 | 1193 | 665 | Event Reward |
| Deogeo** | | | | | | |
| Crystalcrawler | | | | | | |
| Crystalcrusher* | | | | | | |
| BottySnatcher | | | | | | |
| MasterSnatcher* | | | | | | |
| BlasterSnatcher** | | 1950 | 20169 | 1763 | 855 | Event Reward |
| Brainslug | | | | | | |
| Brainworm* | | | | | | |
| Leazard | | | | | | |
| Leasaur* | | | | | | |
| Sizzard | | 775 | 7500 | 900 | 855 | Event Grab |
| Sizzaur* | | | | | | |
| Flizard | | 775 | 7500 | 900 | 855 | Event Grab |
| Flysaur* | | 1288 | 13000 | 1500 | 855 | Event Grab |
| Dizzard | | 775 | 7500 | 900 | 855 | Event Grab |
| Dizzaur* | | | | | | |
| Onyzzard | | | | | | |
| Onyzzaurd* | | | | | | |
| Surturion | | | | | | |
| Surturdoom* | | 1288 | 14238 | 1369 | 855 | Event Grab |
| Fenroc | | | | | | |
| Fenroar* | | | | | | |
| Glittergunner | | | | | | |
| Glittercannon* | | | | | | |
| Gloomsayer | | | | | | |
| Moosesayer* | | 1457 | 14313 | 1332 | 855 | Event Reward |
| Rabidribbit | | | | | | |
| Ribbitrush* | | | | | | |
| Wottertight | | | | | | |
| Wotterproof* | | | | | | |
| Quickchick | | | | | | |
| Quickhen* | | | | | | |
| Rocktosser | | | | | | |
| Rockbosser* | | | | | | |
| Trimane | | | | | | |
| Trifighter* | | | | | | |
| Gustpuff | | | | | | |
| Toughgust* | | | | | | |
| Stalactank | | | | | | |
| Stalagmaul* | | | | | | |
| Elfkimed | | | | | | |
| Urskimed* | | | | | | |
| Wrightrabbit | | | | | | |
| Blightrabbit* | | | | | | |
| Ruptile | | | | | | |
| Rapturian* | | | | | | |