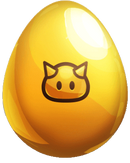 Super Monsters are considerably stronger than Rares, Their un-evolved stats are comparable to an evolved Rare's stats, and their Active abilities tend to be stronger as well.
Super monsters are dropped in pieces similarly to Rare monsters, but to encounter one and have a piece dropped from it is a quite rare occurrence. The most common way to obtain super monsters is through Troop Raids. Super monsters require 6 puzzle pieces to complete and also have a brief waiting time before they can be used.
Super Monsters may also be obtained through the Store, or through Salvage and Crafting.
Super Monsters can be leveled up to level 50 in their first form, level 60 in their second, and level 70 in their third.
A star (*) indicates an evolved form, (**) indicates a third evolved form.
 
Monster
Attack
Health
Recovery
Feed

Value

Found
Hardrocker
510
3425
515
600
Ragnarock*
890
6013
923
600

Iggyrock**
1236
16800
1314
600
Ultimate Grab
Magmadon
505
3463
520
600
Magmarog*
883
6069
930
600
Volrog**
Freezaur
500
3500
535
600
Poseithon Hall
Freezrex*
875
6125
938
600
Ultimate Grab

Freeztop**
1219
17063
1332
600

Ultimate Grab

Yggdrassic
495
3538
530
600
Yggdrasaurus*
868
6182
945
600

Spryggansaurus**
1210
17194
1340
600
Ultimate Grab
Pterosoar
490
3575
535
600
Wingdigo Hall
Soaron*
860
6238
953
600

Soarceror**
1201
17325
1349
600
Ultimate Grab
Rockbottom
515
3400
520
570
Rocktops*
898
5975
930
570
Backburner
510
3425
525
570
Backblaster*
890
6013
938
570
Slushguppy
505
3463
530
570
Toughguppy*
883
6069
945
570
Powerplant
500
3500
535
570
Flowerplant*
875
6125
953
570
Terrordon
495
3538
540
570
Terrordactyl*
868
6182
960
570
Crog
500
3500
505
630
Bullcrog*
875
6125
908
630
Firebat
495
3538
510
630
Fireflyer*
868
6182
915
630
Swampsting
490
3575
515
630
Swampgash*
860
6238
923
630
Treepir
485
3600
520
630
Treeprince*
853
6275
930
630
NoseBlower
480
3638
525
630
Noseblaster*
845
6332
938
630
Jollydon
505
3463
520
600
Jollyrog*
883
6069
930
600
Taodon
495
3538
540
570
Taosaur*
868
6182
960
570
Darkwolf
373
2475
398
600
Nightwolf*
684
4588
747
600
Wrathfire
580
3725
530
600
Blightfire*
995
6463
945
600
Smitefire**
Mardidog
470
3350
495
600
Mardigrowl*
830
5900
893
600
Flupus
460
3300
513
600
Luquis*
815
5825
919
600
Zapdog
463
3488
470
600
Flashdog*
819
6107
855
600
Bundit
453
3325
495
600
Bundito*
804
5863
893
600
Snowdent
443
3413
488
600
Frodent*
789
5994
882
600
Brushbaby
463
3263
498
600
Crushbaby*
819
5769
897
600
Bluedragoon
555
3338
520
600
Ruedragoon*
958
5882
930
600

Doomdragoon**
1315
16494
1323
855
Event Reward
Poprock
605
3213
520
600
Hoprock*
1033
5694
930
600
Boprock**
Ricoshell
530
3088
520
600
Ricospike*
920
5507
930
600
Boaconductor
555
2963
520
600
Boathoven*
958
5319
930
600
Fowlweather
505
2963
570
600
Weatherbane*
883
5319
1005
600
Crowst
580
2713
520
600
Execrowtioner*
995
4944
930
600
Famisher
605
3088
515
600
Fampire*
1033
5507
923
600

Famtasm**
1403
15619
1314
855
Event Reward
Skeletabby
580
2650
545
600
Skeletiger*
995
4850
698
600
Huggopotamus

Cuddlepotamus*
1044
11238
930
600
Event Reward

Snugglepotamus**
1416
15882
1323
855
Event Reward
Sleighdog
Sleighwolf*
Sleighhound**
1425
15794
1323
855
Event Reward
Surfent
Surgent*
Monquerer
Warmonker*
Clampion

Event Reward

GrandClampion*
1239
9663
855
600
Event Reward

SupremeClampion**
1643
14044
1235
855
Event Reward
Holidoe
Holideer*
Freezoid
Freezmech*

Coldheart
573
5725
503
600
Event Grab
Colemheart*

Event Grab

Eggfight
Eggknight*
Sinder
Sinfangfoom*
Lagodor
Lagolibre*
Muchalibre**
Buggyman
Bogeymantis*
Icepatch

Icehook*
857
12513
994
630
Event Reward
Fophopper
Fopstopper*
Embertech

Embertank*
838
10263
1152
855
Event Grab
Sugarcrumb

Sugarcrush*
868
12138
1013
855
Event Reward
Sugarthrash**
Howligan
Growligan*
Hardburner
Hardblaster*
Flyfox
Highfox*
928
10788
1058
630
Referral Friends
Creamfiend
Creamdemon*
Earthrider
Earthstrider*

Fuzzbat
678
5875
548

630

Event Reward
Fuzzbunny*
1142
10563
972
630
Event Reward
Fuzzbrute**
1530
15094
1371

855

Event Reward
Tikibeaky
Tikitalon*
Goldencrow
Goldenruler*
RoastingChicken

Event Grab

Roastrooster*
1044
11200
979
630
Event Grab
Missfortune
Abyssfortune*
Kappakid
Event Reward

Kappachameleon*
1074
11688
972
630
Event Reward

Kappacolossus**
1451
16407
1371
855
Event Reward
Wilyboar

Event Grab

Boarlord*
1014
11688
972
630
Event Grab
Seeddog

Treepdog*
1119
10375
994
630
Event Grab

Boilerdog
663
5750
563
630
Event Grab
Broilerdog*
Clanine
Clabyss*

Cleonness
568
6525
578
630
Event Grab

Cleocatra*
977
11538
1017
630
Event Grab
CanopicCzar
CanopicStar*

CanopicGorgon**
1460
15969
1375
855
Event Reward
Raycat
Coralcat*
Chillerpillar

Event Reward

Chillerfly*
1112
11275
1009
630

Event Reward

Chillerguy**
1495
15925
1415
855
Event Reward
Froppy
PremaFroppy*
Grind-o-Matic

Event Grab

Punch-o-Matic*
1025
10000
1125
630
Event Grab
Mossmauler
Mossbrawler*
BillygoatKid

Event Reward

BillygoatFluff*
1093
11538
1043
630
Event Reward
FrillygoatFluff**

Event Reward

Slowmover
Slowgroover*

Fenine
635
6625
598
630
Event Reward

Calion*
1078
11688
1047
630
Event Reward
Gardengelding
Gardenarchon*

Phosphorocker
648
6300
623
630
Event Reward

Phosphoroller*
1097
11200
1084
630
Event Reward
Tentacling
Tentaking
Stingthing
StingKing*
Oldstone
Ancientstone*

Webula
628
6500
630
855
Event Reward

OmegaWebula*
1067
11500
1095
855
Event Reward
Trentacle
Eletrent*
Treeture

Treegon*
1063
10375
1088
855
Event Grab
Heature
Heagon*

Seature
625
5750
625
855
Event Grab
Seagon*
Wispture
Wispon*
Musper

Musperior*
958
12063
1129
855
Event Grab
Brerefreyr
Knightfreyr*
Treasaur
Treasurex*
Freakybeaky
Freakytalon*
Toughcrog
Aggrocrog*
Eggthrower
Eggpelter*
Tikibeefy
Tikiblasty*
Palemell
Paleglider*
Bluepanzer
Panzerbonanza*
Huggernaut
Muggernaut*
Bundana
Bundashing*
Medicmouse
MASHmouse*
Blockbottom
Blocktops*
Armboar
MightyArmboar*