Chests are great for freebies! You can find them almost anywhere. Just tap on the purple chest when you see it to see which type it is!
There are a few types of chests, most with offers needing coins to win, but one of those types is a choice of three free items which you can then double for free!
Freebie Chests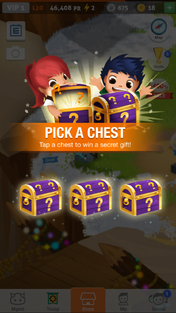 If you click the chest and three smaller chests pop up, you've hit the jackpot! Choose one of the chests and get a reward! Anything from stones, hammers, scrolls, jewels of every kind, to eggs (usually uncommon or common monsters)!
The best part? After it reveals your reward, it offers you a chance to double it for free! All you have to do is sit through a 30-60 second commercial for another game. Just click on the (x) when the timer ends and collect your doubled reward in your gifts!
   **As of Update 4.0.4** 

Freebie chests are no longer available once a player has made an in-game purchase. Please consider that you WILL lose access to this feature if you buy gold in-game.
Silver & Gold Chests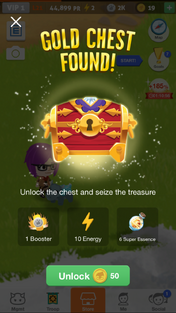 These chests look the same when you see them but they require gold coins to open-- they usually offer multiple items for discount prices. If you don't have any gold and don't want to spend real money to get some- just exit out of the offer and search for a new chest!