** NOT TO BE CONFUSED WITH THE STANDARD ARENA WITH BLUE ENERGY FOR RUNES**
Description coming soon.
Your Admin must sign up your troop for times to fight in this event.
PRIZES: See the event page IN GAME to see prizes and possible Event Grab monsters! They change for each event! Many of the prizes for top tiers are Ultra and Epic monsters!
Rules
-- coming soon --
Battle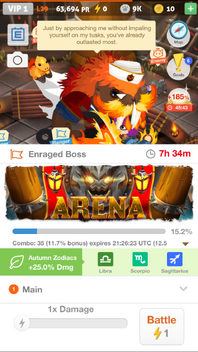 The goal of the game is to battle other players' Defense Teams to earn trophies and Valor Medals. These Valor Medals are then donated to the boss monster in the center of the room.
Once your troop has donated the required amount of Valor Medals, a troop ADMIN can start the raid! They get to choose the level of difficulty. Raids on the boss may last for hours, so be ready to check back frequently!
If you loose against a Defense Team, you still get a minimum amount of trophies and Valor Medals as a condolence prize.
This is NOT an "hour" match event. You can visit anytime to battle for Trophies, Valor Medals, and to raid the boss.
The more combos you get, the more bonus points you get! This number resets every 10 minutes, so make sure a large amount of people from your troop are present to battle. Space out the attack times to keep the combos!
How To Win
At the end of the hour, the team that "owns" the most towers will win!
PRIZES are based off the trophies you earn. You earn individual trophies each time you battle a Defense Team. You earn even more trophies when you battle the boss! The individual and troop prize tiers are based off the amount of trophies won.
Tips & Tricks
Get your whole troop on and coordinate to space out your attacks on the boss raid! Combos bonus attack %s disappear every 10 minutes- Schedule each person to battle one energy every 9 minutes, or space out people every 9 minutes to use all their energy.
Save gift energy in your inbox until your match starts. Then accept the gift energy and go for more than 5 energy usage!
Battle first thing when it opens! Spend all 5 energy. It takes 50 minutes for energy to recharge, so you'll be at full energy again before the one hour battle ends. Battle again!

ex: Battle at 11:00 with 5 energy and then again at 11:50 with another 5 energy!