Summary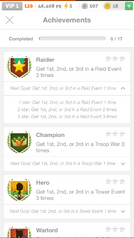 Achievements are mini goals in the game!
They show up as large banners when someone clicks on your avatar!
You can see your own achievements and the goals when you click on "Me" on the bottom right of your screen and select the achievements area.
Each achievement has 3 stars. The drop down on the screen tells you what you need to earn each star. The achievement only shows up in your profile area if you collect ALL THREE stars.
Achievements List
| | Title | Goal | Banner |
| --- | --- | --- | --- |
| 1 | Raider | Get 1st, 2nd, or 3rd in a Raid Event 3 times | |
| 2 | Champion | Get 1st, 2nd, or 3rd in a Troop War 3 times | |
| 3 | Hero | Get 1st, 2nd, or 3rd in a Tower Event 3 times | |
| 4 | Warlord | Get 1st, 2nd, or 3rd in a PvP Event 3 times | |
| 5 | Epic | Collect 5 Epic Monsters | |
| 6 | Ambassador | Refer 50 friends | |
| 7 | Perfectionist | Complete 5 Perfect Evolutions | |
| 8 | Vanquisher | Complete 10,000 battles | |
| 9 | Nuclear | Feed 10,000 monsters | |
| 10 | Beast Master | Unlock 175 monsters in the catalog | |
| 11 | Collector | Collect 50 zone specific rares | |
| 12 | Grand Master | Place 1st, 2nd, or 3rd in every event type 3 times | |
| 13 | Ranger | Complete all main goals | |
| 14 | Stylish | Collect 50 clothing items | |
| 15 | Veteran | Reach level 60 | |
| 16 | Millionaire | Earn 1,000,000 stones | |
| 17 | Legendary | Earn 3 stars in 16 achievements | |